Pathways & Paving Stones Edmonton
Take a step in the right direction to add to the curb appeal of your Edmonton property. We can replace your old pathways, steps, or paving stones for a brand new look or we can help transform a new space complete with exterior lighting.
Create a front entrance your neighbours' envy. Our Edmonton team can design a custom pathway or steps to fit your yard. We offer a range of natural stone materials to choose from, including stone slab steps from many sources that are available in a variety of colours. We also offer the modern prefabricated look from suppliers such as Tech-Bloc, Belgard and Barkman. Our paving stone team is fully trained in installing steps in any conditions, ensuring all our Edmonton projects are built to last. Our team can help pair the perfect elements with your yard and personality.
Contact us today to start creating your dream pathway or steps.
ELEVATE YOUR LANDSCAPE WITH PAVING STONES
With an elegant and luxurious stepping stone pathway, your Edmonton landscaped yard can be elevated in beauty and function. Rather than installing a full concrete pathway, stepping stones can provide a more discreet, less formal path. Furthermore, depending on the stone materials you choose, they are generally less expensive to construct than continuous paved concrete pathways.
THE BEST PAVING STONE PRODUCTS EDMONTON HAS TO OFFER
As an Edmonton based landscaping company, we can custom format your paving stones to suit your landscape and home. We offer a huge array of colours, rock, concrete, brick, and other stepping stone products and we are confident that our Edmonton landscaping experts can turn your favourite yard or landscape into a beautiful sight with unique, paving stone pathways.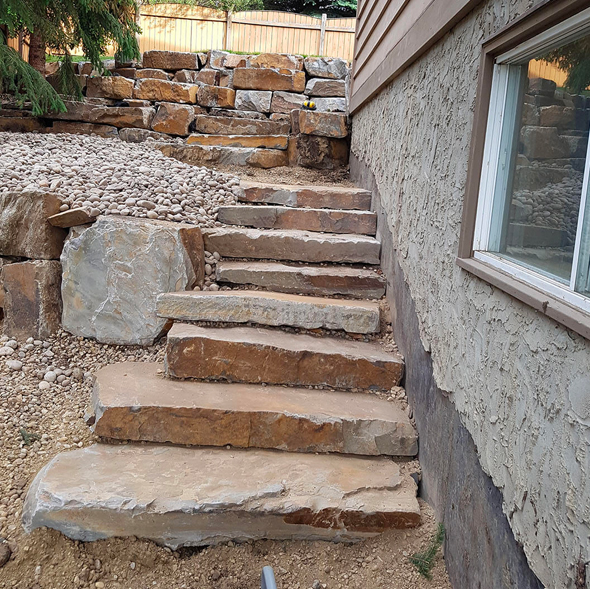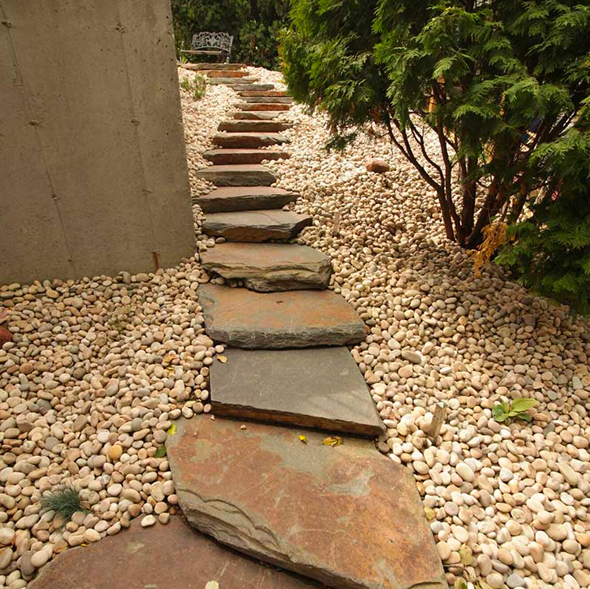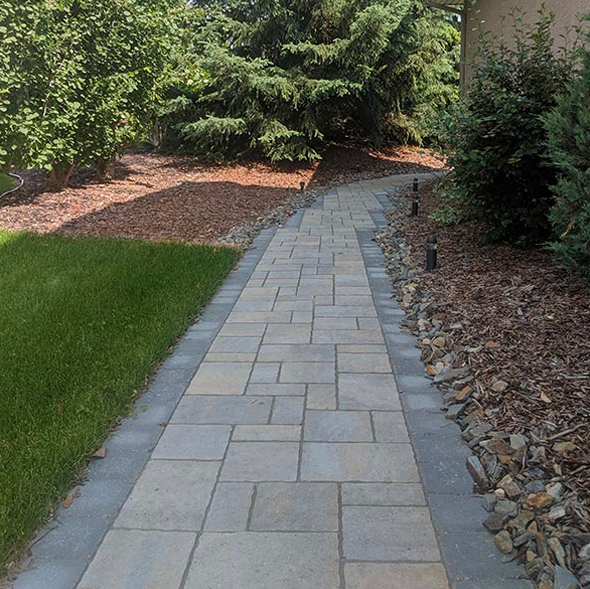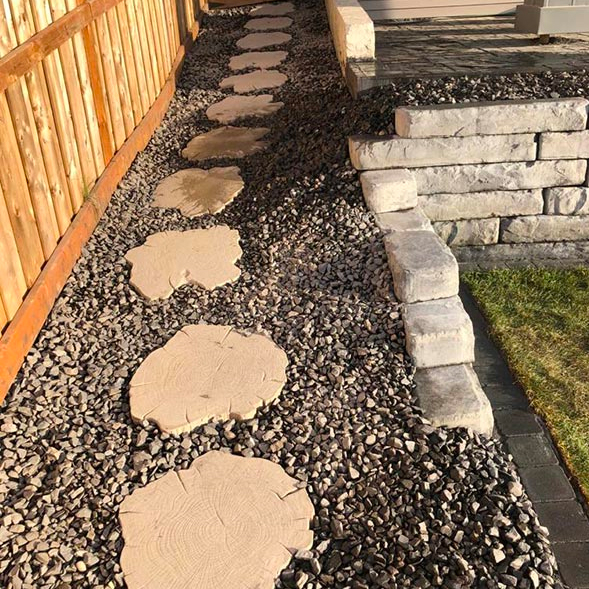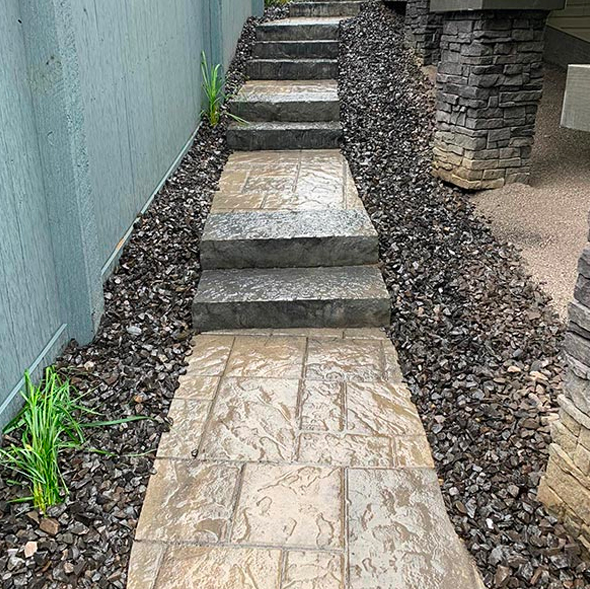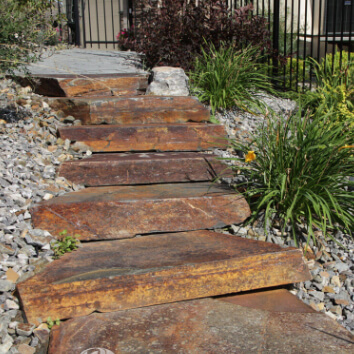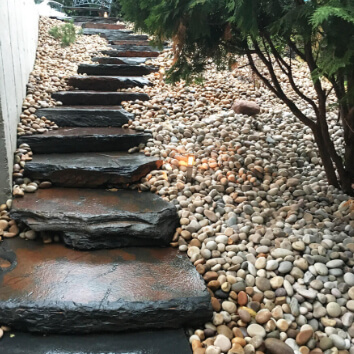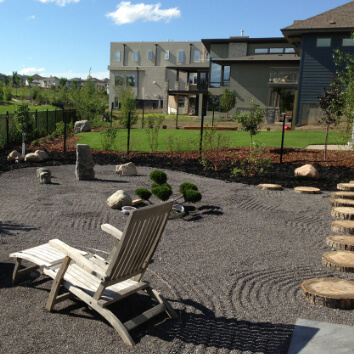 FAQ
What are the available options for paving stones?
There are many available customizable options for installing paving stones, steps, or pathways in your residential property. We have a wide variety of natural materials to choose from such as stone slab steps available in many different colours.
If the natural aesthetic isn't what you're looking for, we have modern prefabricated paving stone options as well. Please contact us for more information on installing the pathway that is perfect for your Edmonton yard.
What are the benefits of paving stones compared to concrete paving?
In addition to providing your yard with either a natural, aesthetically pleasing stone slab walkway, or interlocking paving stones that add character and class, these alternative stone walkways are more resistant to cracking than asphalt or poured concrete. Each piece of an interlocked paving stone area has room to expand and contract in response to dramatic Edmonton weather changes in a way that concrete cannot. In addition, paving stones are easy to replace if a piece does crack or break.
What is the best paving stone option for Edmonton yards?
Although all of Blue Isle's step and pathway solutions are sufficient for Edmonton landscaping, and all add the benefit of defence against breaking and cracking compared to concrete, interlocking paving stones are a great choice for Edmonton climates as they allow for easy snow removal yet still maintain the advantages of a pathway alternative to poured concrete.
How much does it cost to install paving stones?
The cost of purchasing new paving stones or slab walkways and having Blue Isle's experienced paving stone professionals complete the installation largely depends on the type of project you have in mind, the materials necessary to complete it, and the corresponding installation process.
If you wish to acquire more information about our paving stone services and products, please contact us today for a free consultation.
Why choose Blue Isle Landscaping for paving stones?
At Blue Isle landscaping we pride ourselves on providing high-quality products, outstanding craftsmanship and unbeatable customer service. Not only do we have ten years of experience within the industry, but we are a family-owned and operated group of companies who stop at nothing to make sure your landscaping dreams become realities.
From retaining walls, patios, to custom steps and pathways, Blue Isle has the knowledge and expertise to complete your commercial or residential project to your satisfaction.