High-Quality, Custom Patio & Paving Stone for Your Driveway and Outdoor Space
Here at Blue Isle, we specialize in creating custom and unique commercial and residential outdoor spaces, such as your driveway or backyard. Our professional paving stone experts in Edmonton will help you design an impeccable space that you will be proud to show off. What better way to appreciate the warm, sunny months of summer than having your very own, high-quality patio to enjoy with family and friends? 
As your paving stone contractor, we will help you create custom patio areas that maximize your available space and exceed your expectations. From conceptualization to paving stone installation, we will be with you every step of the way to guide you and make your dream outdoor space come to life. Not only that, but we build our patios to stand the test of time in our harsh Edmonton climates and ensure endless enjoyment for years to come.
Paving Stone & Landscape Products in Edmonton
Our standards for quality and the time we invest in training means that we can install residential and commercial paving stones efficiently and effectively for your landscape. We have strict specifications when it comes to our craft, which ensures the highest quality materials and workmanship. By adding a patio to your Edmonton yard, or paving your driveway, we will turn a simple area into a great outdoor living space that you and your loved ones can enjoy.
Book a consultation today to see how we can extend your property's living space!
Premier Paving Stone Work for Your Landscape
Blue Isle provides premier paving stone work for both residential and commercial spaces in Edmonton and the surrounding areas. Paving stones are a popular choice for outdoor hardscapes and are used in a variety of places, such as patios, sidewalks, walkways, driveways, and even as the edging along gardens and flower beds. There are numerous types of pavers and plenty of differences between them, including sizes, colours, strengths, and textures. For more information and guidance on paving stone installations or how to start planning or installing paving stone into your outdoor space, book a consultation with us today!
Let Us Install Paving Stone and Landscape Products for Your Outdoor Space
The experts at Blue Isle will be with you every step of the way, from picking out the finest paving stone products that best suit your home and personal tastes to the installation on your landscape. Our many years of experience in the landscaping industry enable us to continue installing the best natural-looking paving stone and patio stone products. We couple extensive training with up-to-date knowledge on the latest paving stone options and innovations to ensure our clients are provided with the best there is when it comes to their landscaping. Our paving stone specialists work closely with customers to ensure the final result exceeds expectations.
See What Our Clients Are Saying
5.0 / 5
Based on reviews
Posted on Google

Why are patios built by Blue Isle
superior to our competitors?
Patios are an essential element of outdoor living and at Blue Isle Landscaping we excel at installing patios built to last in our harsh climate. When it comes to installing paving stones, we go above and beyond and over-engineer our products for maximum customer satisfaction.
Permeable patios
Water drains through the paving stone joints, through the base and disperses back to natural aquifers. This is a great applicable for heated driveways and recommended for commercial projects or when required by municipalities.
Hybrid installations
Built like a permeable application but only a small percentage of water goes through the jointing materials of the paving stones. This type of installation is typically stronger and recommended for areas of heavy water concentration and those with drainage concerns.
Standard builds
Water does not flow through any part of the patio due to their densely graded base. This traditional method of installation can be used in a variety of applications; walkways, patios, driveways. This installation is advantageous due to the lower cost of material in the base preparation.
Driveway install
These builds are reinforced with geosynthetic textiles; woven, nonwoven and geogrids. Our driveways are built to withstand extreme forces for all vehicular applications.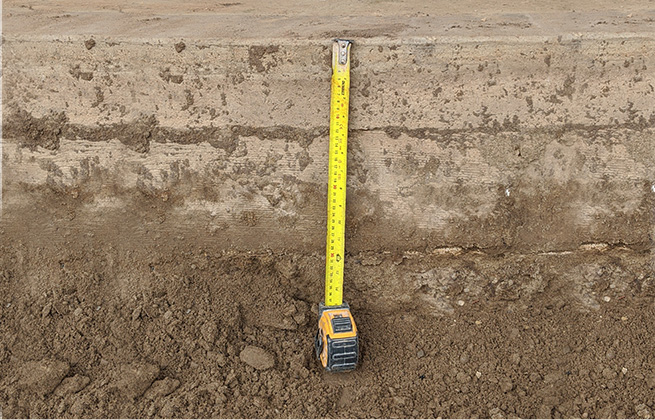 1
It starts with the base as we excavate a minimum of 10 inches for a standard residential patio. After that, we amend our subgrade by tamping angular stone into the clay sub-base.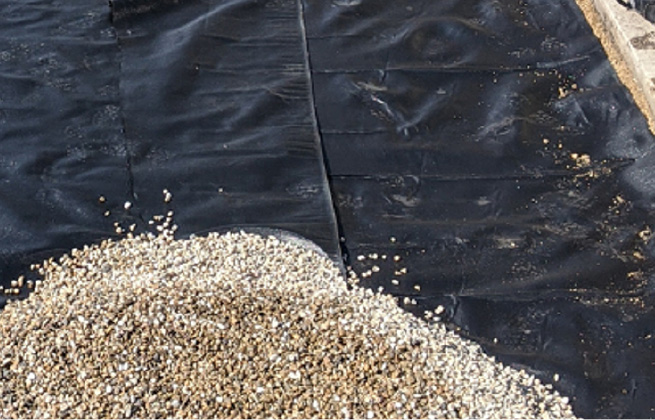 2
From there, we wrap the excavated area in a woven geotextile fabric, typically Mirafi 2XT which one of the industry's best fabrics, known for its tensile strength and soil separating capabilities.
3
The fabric is then covered in a minimum of 6'' of road crush or open graded stone depending on the application. Then the base is tamped with our 14,000lbs centrifugal force plate compactor and/or jumping jack to ensure stability and uniformness for decades to come.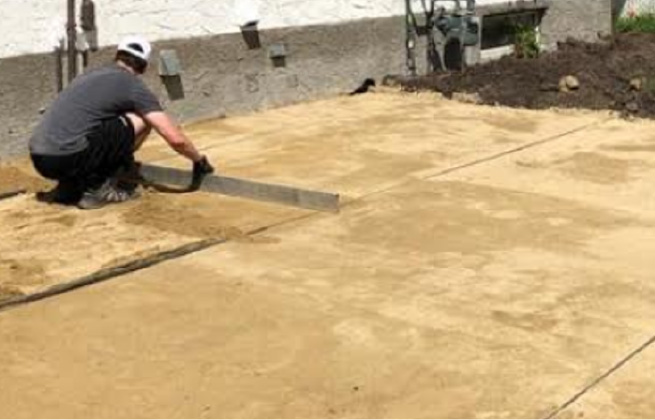 4
Once sufficiently tamped, we start by applying a 1'' layer of angular bedding sand or open graded chip rock to create our screening bed.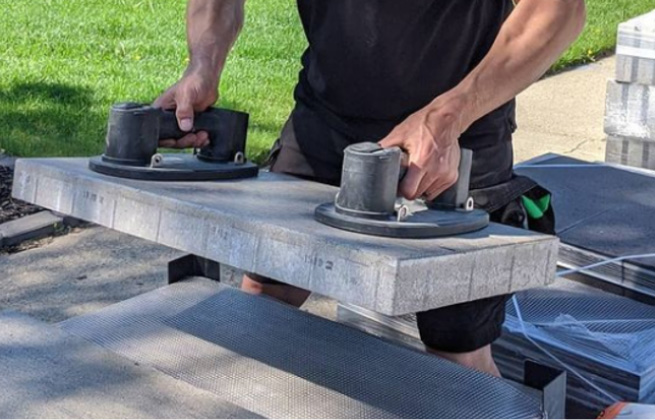 5
Next is the "wow factor". We install the paving stones or slabs using the click-and-drop method. We use only the premier products in the industry; Techo-Bloc, Barkman and Expocrete. We have a variety of tools including vacuum equipment and mechanical slab grabs to ensure the pristine surface of the paving stones remains flawless and undamaged.
We install the premier paving stones in the industry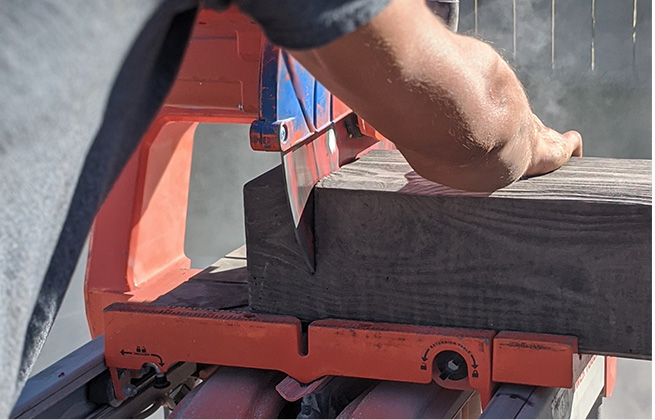 6
Once the majority of pavers have been laid, we move on to cutting. We cut our pavers to the desired shape using either a dustless saw, wet saw or dry saw; virtually any shape is possible.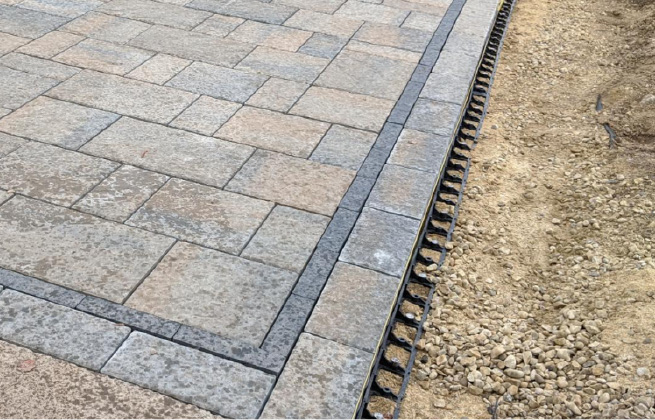 7
We edge our patios typically with 12'' spikes and snap edge cut to fit; on open grades we use a concrete edging with a geogrid mesh.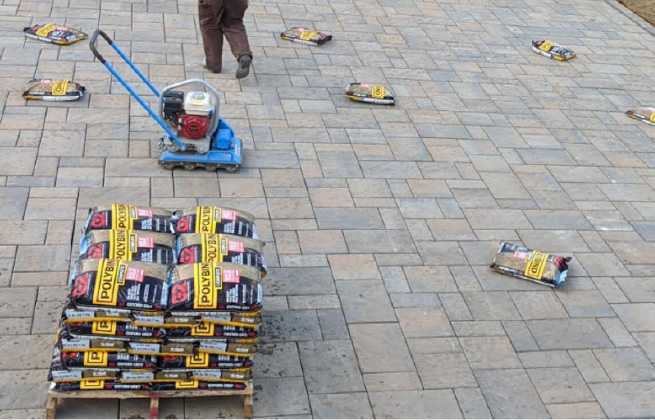 8
Once edged, the next step is to install the Polysand which interlocks and fills the voids in-between the pavers. We use a vibratory rolling plate compactor which uses soft rubber rollers to consolidate the Polysand into the joints of the pavers ensuring the sand is an adequate depth and the pavers beauty remains unscathed.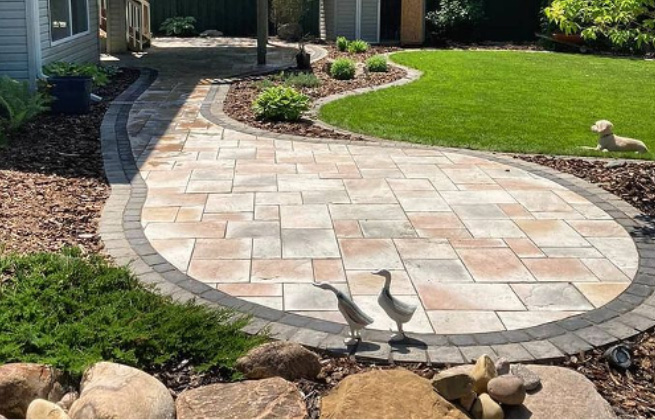 9
After the pavers are blown down and washed, your patio is ready for softscaping around the edges. This is the final step onto enjoyment for years to come!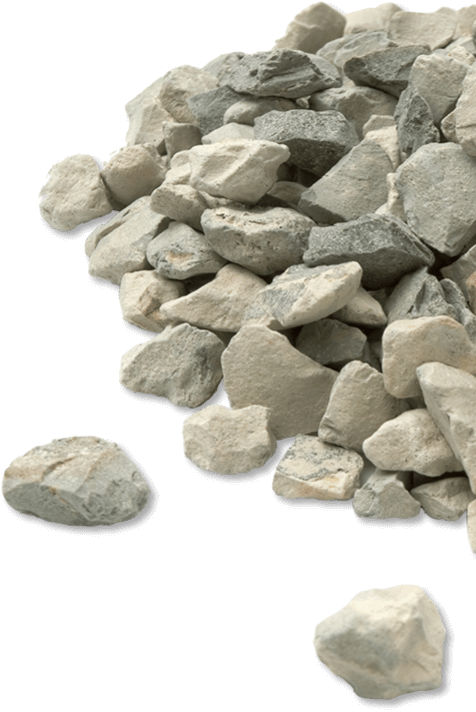 Our Location

Service Regions
Edmonton, Alberta
3456 91 St NW #201,
Edmonton, AB T6E 5R1
Hours of Operation
Monday

8:00 AM - 6:00 PM

Tuesday

8:00 AM - 6:00 PM

Wednesday

8:00 AM - 6:00 PM

Thursday

8:00 AM - 6:00 PM

Friday

8:00 AM - 6:00 PM

Saturday

Closed

Sunday

Closed
Beaumont
Bon Accord
Calmar
Devon
Edmonton
Fort Saskatchewan
Gibbons
Lacombe
Leduc
Legal
Morinville
Spruce Grove
St. Albert
Stony Plain
Strathcona County
Sturgeon County
Thorsby
Warburg
Toefield
Wetaskiwin
Don't see your location here? Call us at 1-800-232-9454 or contact us to find out if we can service your area!
Frequently Asked Questions
Pavers, also known as paving stones, are an incredibly popular material for outdoor hardscaping. They are made from a variety of materials but usually take one of three forms; concrete, natural stone, and brick(clay). At Blue Isle, we offer different types of pavers in different selections of patterns, textures, sizes, and styles. To find the perfect paver stone for your patio, contact us or visit our location at #412 19904 118a Ave NW, Edmonton, AB.
Is it difficult to maintain pavers?
No, it is not difficult to maintain pavers. Simply sweep the patio clean to remove any debris. You can also scrub them with water and a small amount of detergent to remove dirt and discoloration. To remove stubborn weeds that grow between the stones, use a pressure washer occasionally. For any other questions or inquiries, please contact us.
How long do paver patios last?
Blue Isle pavers generally last 50-100 years or longer. Our experts are specialists in the field and ensure that your patio lasts you for years to come. However, incase of any damage to the pavers due to external factors like weather, they are easily repaired and replaced. Simply contact us and we will be more than happy to assist you.
How long does it take to install a new patio using pavers?
The amount of time it takes to install a new patio using pavers varies depending on the size of land, design, and materials. At Blue Isle, we work closely with our clients to ensure that they get the patio of their dreams within the time they need it.
Does Blue Isle install commercial and residential patios?
Yes! Here at Blue Isle, we are committed to building high-quality, long-lasting outdoor spaces. Whether that is a BBQ dining area in your backyard or a commercial project for an office, we have you covered with efficient, professional patio services.
Why should I choose Blue Isle Landscaping as my Edmonton paving stone provider?
As a business that is local to Edmonton, we are very familiar with the harsh winters and extreme summer temperatures that our outdoor spaces have to endure. Our training process and installation technique means we can get the job done quickly and efficiently.
BLUE ISLE
Timeless & Unique
Built to withstand our harshest climates
Recessed patio lighting
Endless colours, textures, and shapes available
Make it unique by applying inlays
Sealant to protect your patios beauty
Permeable patio options
COMPETITORS
Limited & Ordinary
Less experience with innovative techniques
Lacking the equipment to install unique designs
Possible unevenness, lift, or relays required
Drainage concern due to varying design applications