When it Comes to High-Quality, Custom Patio and Paving Stones, No One Matches Blue Isle
At Blue Isle, we specialize in designing and creating impeccable outdoor spaces. What better way to appreciate the warm, sunny months than having your very own, high-quality patio to enjoy? Our experts create custom patio areas that maximize your available space and will exceed your expectations. We build our patios to stand the test of time in our harsh climates and ensure endless enjoyment for years to come.
Our strict specifications and the time we invest in training means that we can install residential and commercial paving stones efficiently and effectively. By adding a patio to your yard, we can turn a simple backyard area into a great outdoor living space to sit and enjoy with family and friends.
Book a consultation today to see how we can extend your property's living space!

Why are patios built by Blue Isle
superior to our competitors?
Patios are an essential element of outdoor living and at Blue Isle Landscaping we excel at installing patios built to last in our harsh climate. When it comes to installing paving stones, we go above and beyond and over-engineer our products for maximum customer satisfaction.
Permeable patios
Water drains through the paving stone joints, through the base and disperses back to natural aquifers. This is a great applicable for heated driveways and recommended for commercial projects or when required by municipalities.
Hybrid installations
Built like a permeable application but only a small percentage of water goes through the jointing materials of the paving stones. This type of installation is typically stronger and recommended for areas of heavy water concentration and those with drainage concerns.
Standard builds
Water does not flow through any part of the patio due to their densely graded base. This traditional method of installation can be used in a variety of applications; walkways, patios, driveways. This installation is advantageous due to the lower cost of material in the base preparation.
Driveway install
These builds are reinforced with geosynthetic textiles; woven, nonwoven and geogrids. Our driveways are built to withstand extreme forces for all vehicular applications.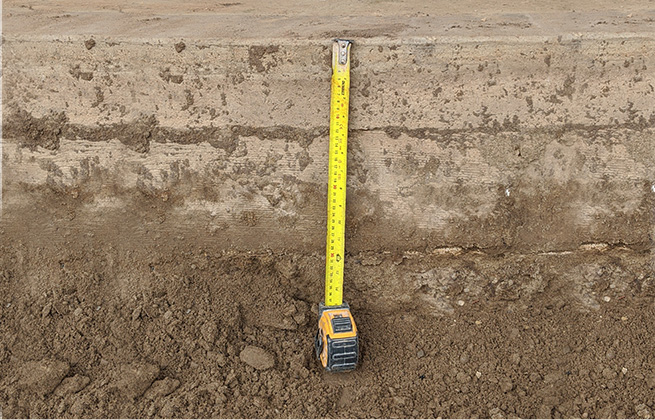 1
It starts with the base as we excavate a minimum of 10 inches for a standard residential patio. After that, we amend our subgrade by tamping angular stone into the clay sub-base.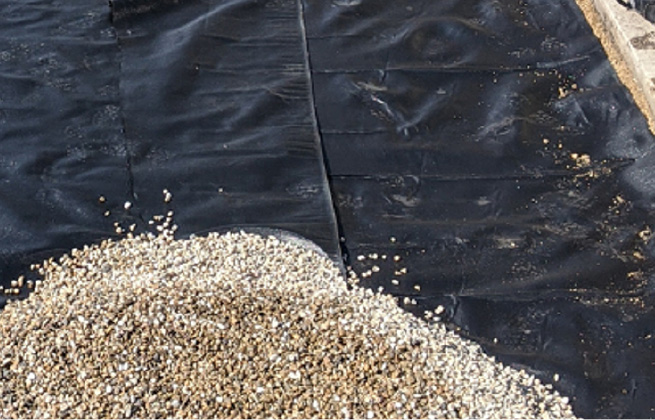 2
From there, we wrap the excavated area in a woven geotextile fabric, typically Mirafi 2XT which one of the industry's best fabrics, known for its tensile strength and soil separating capabilities.
3
The fabric is then covered in a minimum of 6'' of road crush or open graded stone depending on the application. Then the base is tamped with our 14,000lbs centrifugal force plate compactor and/or jumping jack to ensure stability and uniformness for decades to come.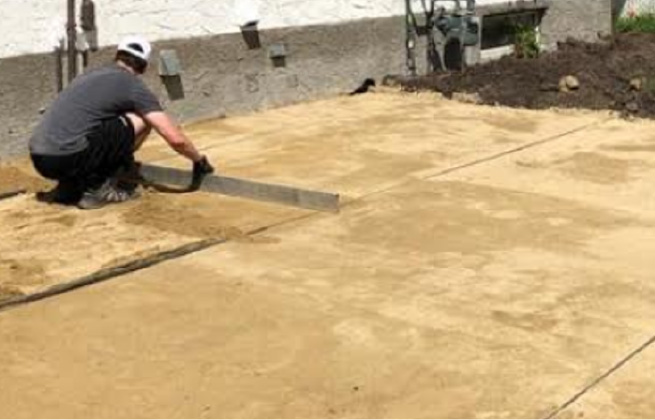 4
Once sufficiently tamped, we start by applying a 1'' layer of angular bedding sand or open graded chip rock to create our screening bed.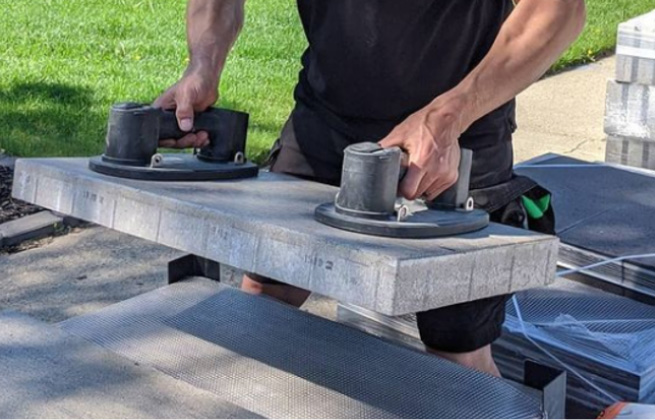 5
Next is the "wow factor". We install the paving stones or slabs using the click-and-drop method. We use only the premier products in the industry; Techo-Bloc, Barkman and Expocrete. We have a variety of tools including vacuum equipment and mechanical slab grabs to ensure the pristine surface of the paving stones remains flawless and undamaged.
We install the premier paving stones in the industry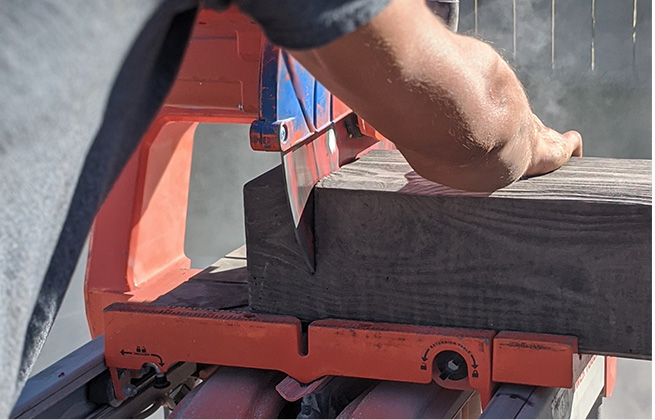 6
Once the majority of pavers have been laid, we move on to cutting. We cut our pavers to the desired shape using either a dustless saw, wet saw or dry saw; virtually any shape is possible.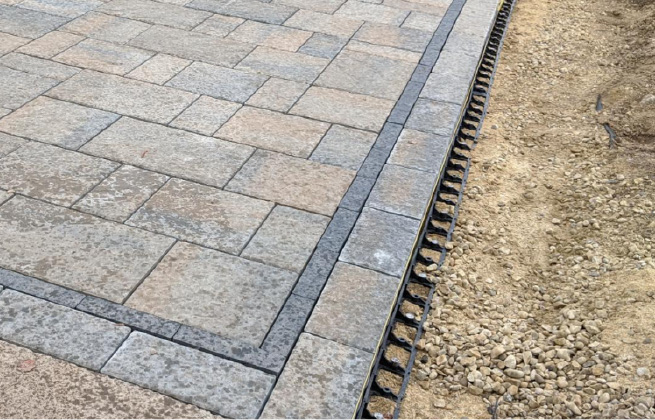 7
We edge our patios typically with 12'' spikes and snap edge cut to fit; on open grades we use a concrete edging with a geogrid mesh.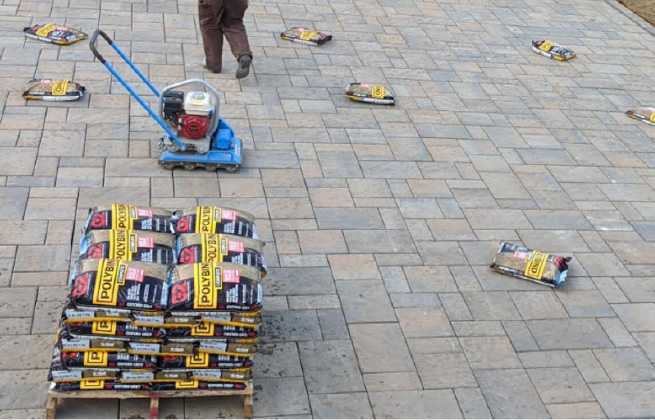 8
Once edged, the next step is to install the Polysand which interlocks and fills the voids in-between the pavers. We use a vibratory rolling plate compactor which uses soft rubber rollers to consolidate the Polysand into the joints of the pavers ensuring the sand is an adequate depth and the pavers beauty remains unscathed.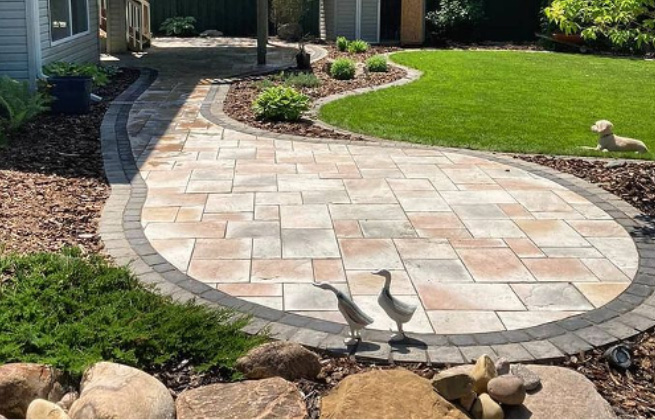 9
After blown down and washed your patio is ready for spoftscaping around the edges and then onto enjoyment for years to come!
BLUE ISLE
Timeless & Unique
Built to withstand our harshest climates
Recessed patio lighting
Endless colours, textures, and shapes available
Make it unique by applying inlays
Sealant to protect your patios beauty
Permeable patio options
COMPETITORS
Limited & Ordinary
Less experience with innovative techniques
Lacking the equipment to install unique designs
Possible unevenness, lift, or relays required
Drainage concern due to varying design applications