EDMONTON PATIOS & PAVERS
When it comes to designing and creating impeccable outdoor spaces in Edmonton, Blue Isle Landscaping is second to none. With a beautifully designed new outdoor space from Blue Isle, you can make the best out of your Edmonton yard. Nothing beats enjoying the few months of hot summer weather in Edmonton outside in the sun on your very own, high-quality patio. Our Edmonton team will design and develop a custom area that maximizes your available space and fits the outline of what you want your yard to be transformed into. We build our projects to stand the test of time in our harsh Edmonton climates.
Our strict specifications and the time we invest in training means that we can install residential and commercial patio and patio stones efficiently and effectively. By adding a patio to your Edmonton yard, we can turn a simple backyard area into a great outdoor living space to sit and enjoy with family and friends.
Helping You Create Your Dream Patio
We believe the first step in our Edmonton projects begins with taking the time to get to know our client's vision. After we fully understand the custom designs and modifications our clients want, the focus then moves on to planning a patio project that complements their needs. That is why we are YOUR professional Edmonton patio and landscaping company; we work with you to ensure your outdoor space becomes the patio of your dreams.
The Best Patios Edmonton Has to Offer
Blue Isle Landscaping is a fully licensed and insured, family-owned business located in Edmonton, Alberta and we offer a full range of residential and commercial patio services. We specialize in Edmonton residential landscaping services such as water features, retaining walls, and more. With over ten years of industry experience, we pride ourselves on offering personalized patio services and quality workmanship on each and every patio project.
Blue Isle Landscaping Guarantees Total Customer Satisfaction on Any New Edmonton Patio
All of our patio workmanship in Edmonton comes with a 3-year warranty, exceeding industry standards. Amongst numerous accolades and awards, we are also ICPI certified, 5-star Google rated, BBB accredited, Techo-Pro certified, and are complemented with much more accreditation's. For all of your Edmonton patio needs, contact our expert landscapers today.
Grow Your Business During the Pandemic with an Outdoor Patio
Blue Isle Landscaping are experts in designing and building commercial patios. With COVID-19 restrictions constantly changing, keep your customers safe by extending your dining area into your outdoor space. With covered patio and outdoor heating options, you can keep your patio open for dining even during the coldest of Edmonton winter months.
Contact Us Today and see how a patio can transform your yard!
Gallery
View Video
Learn More About Our Installation Process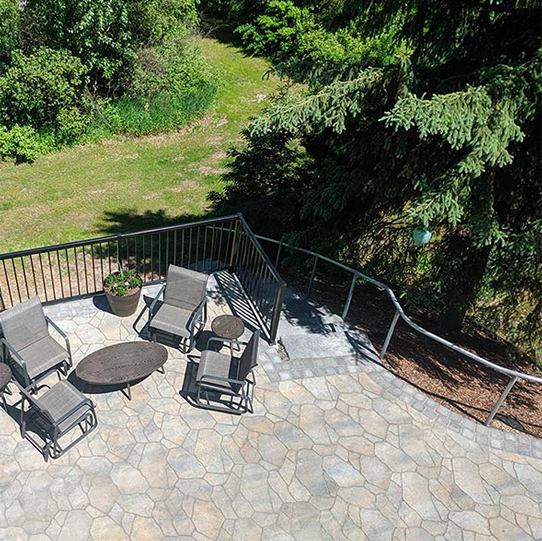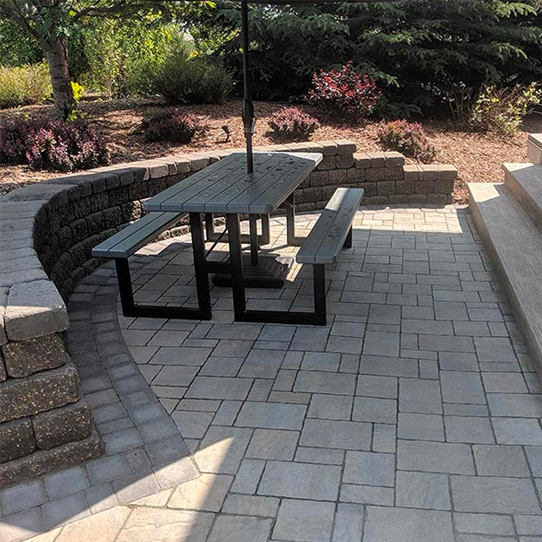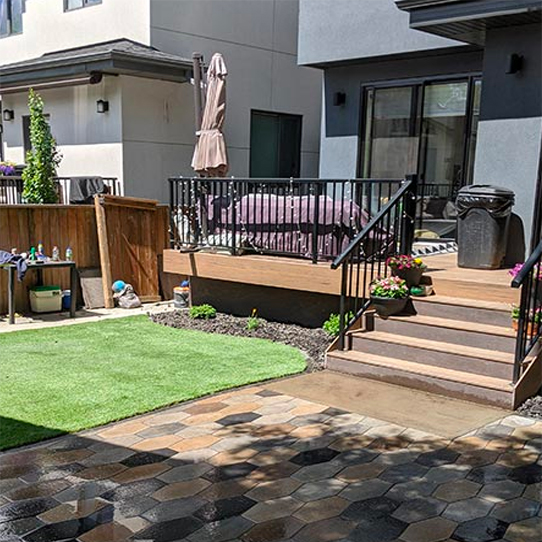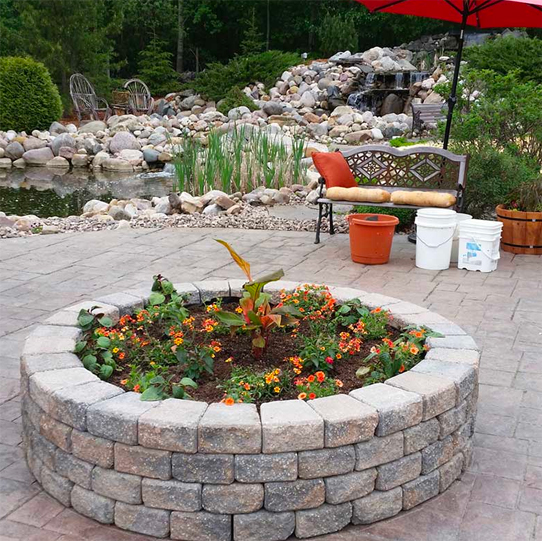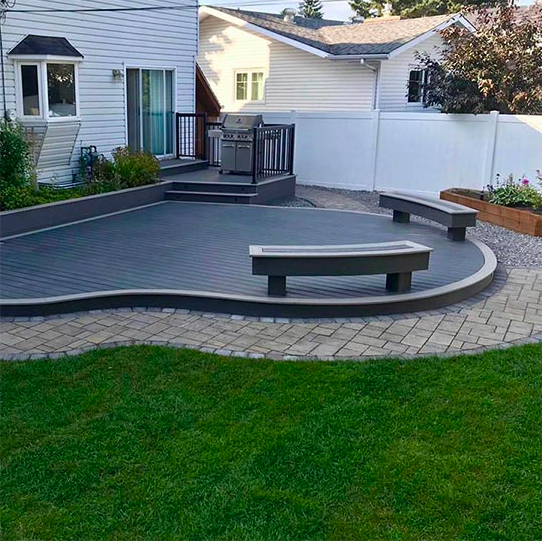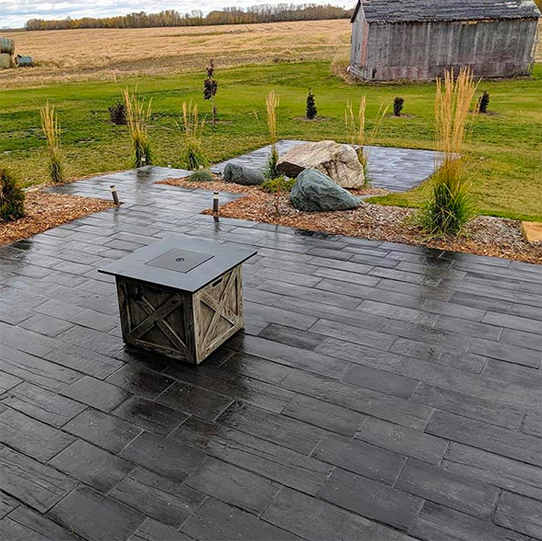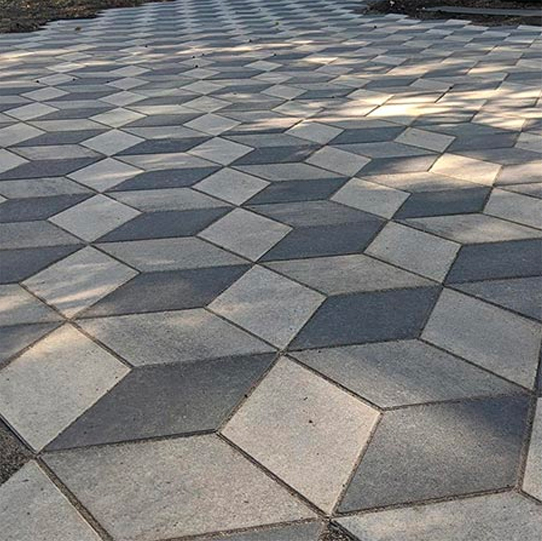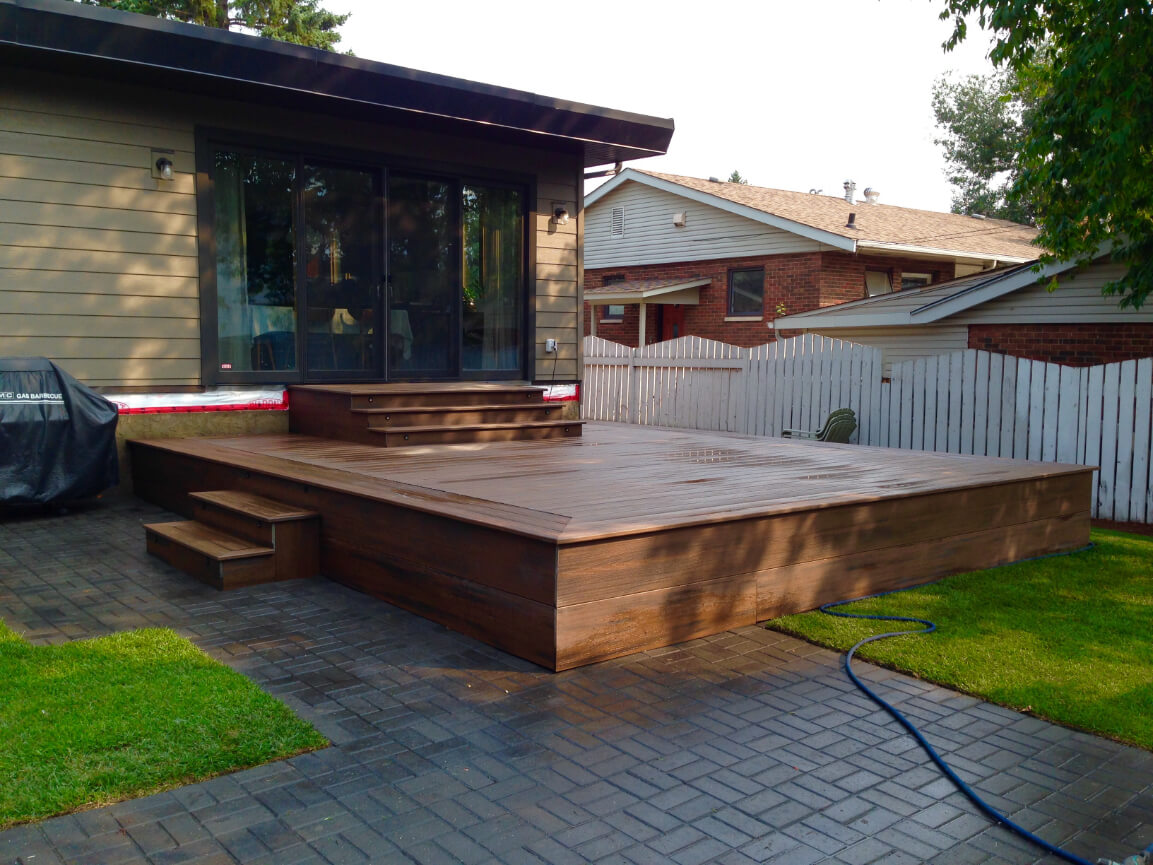 FAQ
What makes Blue Isle projects superior to our competitors?
At Blue Isle Landscaping, we specialize in installing unique and high-end patios with impressive finishing touches such as recessed lighting, different colours and textured inlays. Our timeless and unique patio designs are built to withstand harsh climates with a wide variety of colours, textures and shapes available. We go above and beyond building a standard patio and over-engineer our builds for maximum customer satisfaction.
What are the custom patio options available?
Not only do we offer a large selection of colours, textures and shapes for our patio stones and pavers, but we also have different patio installation options such as permeable, hybrid, standard builds, or driveway installations. If you would like to learn more about our installation process and the options available, contact Blue Isle for more information.
How much does an installation cost with Blue Isle?
The cost of a new patio installation will largely depend on the type of materials you select and the size of the corresponding installation. If you would like to learn more about our patio installation services or would like to obtain a quote, please contact Blue Isle today!
How much maintenance does a patio from Blue Isle require?
Here at Blue Isle Landscaping, we utilize high-quality, innovative paving stones and patio stone technology when installing a new patio. One of the biggest advantages of our patio installation style is that our projects require little maintenance when compared to a patio made by competitors or made with other materials. If you wish to learn more about our installation and required maintenance, contact an expert Blue Isle patio builder today!
Do I need a development permit to build a patio in Edmonton?
When building a new patio or deck, development permits are not required when the project is 1.2 metres or less above the ground. Additionally, if your new structure does not have a roof or walls, if it is entirely built within your backyard, or not located on a corner lot, a permit is not needed. If you have any more questions regarding whether you require a permit or not, our patio professionals and Blue Isle will be happy to help you!